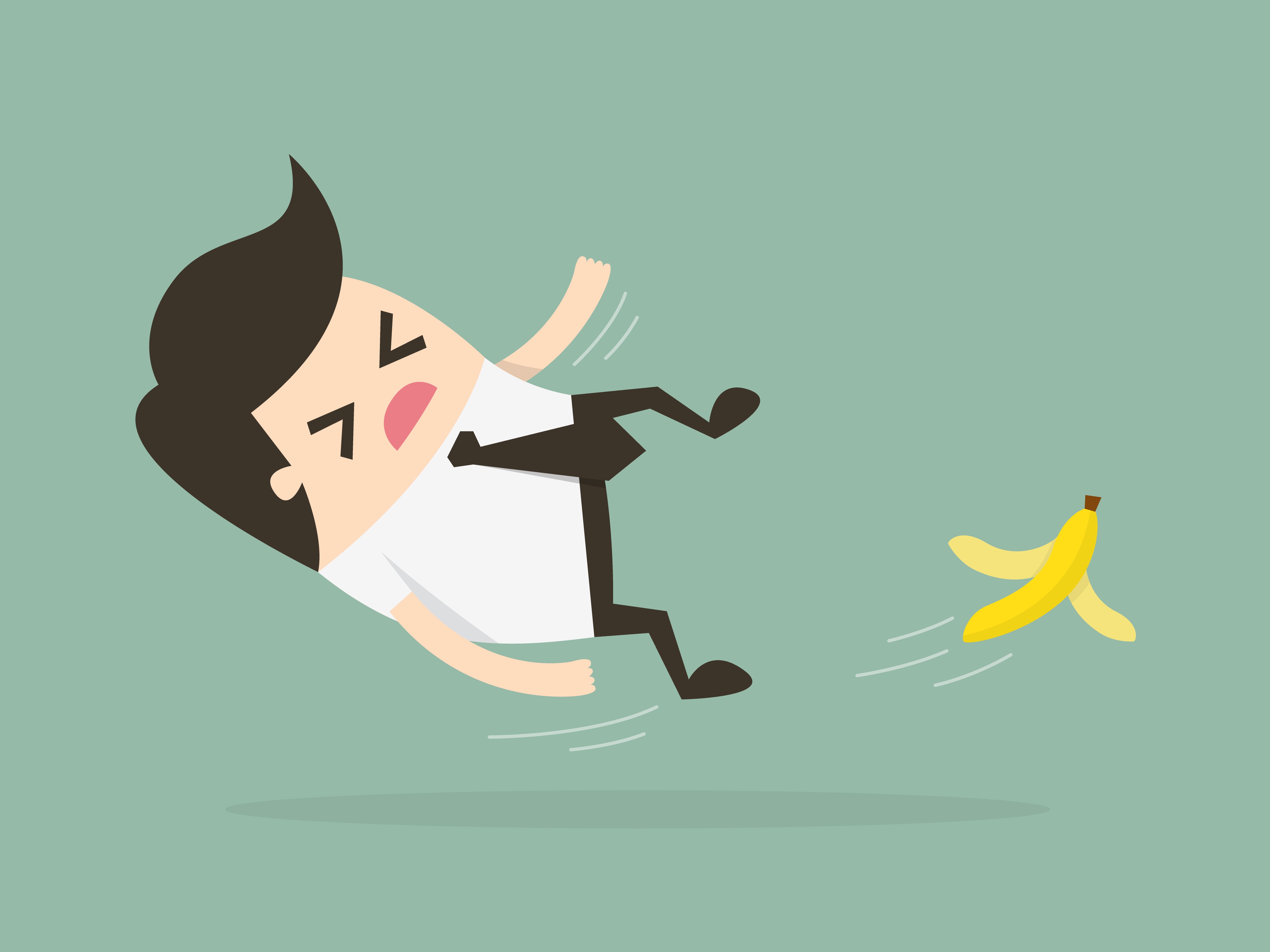 Slip, trip and fall claims are probably the easiest type of claims to avoid with a little risk management. Although these claims can be large, most of the time they are small but can be quite frequent. In fact they are the leading cause of general liability insurance claims for nonprofit organizations.
In order to keep visitors to your nonprofit safe and the avoid claims, it's important to understand the dangers that exist as well as how to avoid the associated accidents.
5 Most Common Dangers that Lead to Slips, Trips, and Falls
Poor maintenance of parking lot and sidewalk surfaces (cracks, holes, etc.)
Slippery interior floors due to over-cleaning and waxing, and lack of slip resistant coating on slick surfaces
Lack of marking and non-slip strips on stairs and loose stair railings
Unattended spills and leaks
Obstructed walkways
5 Top Interior Risk Management Solutions
Establish a regular monitoring system to check for spills, leaks, tears in carpeting, cracks in tile and other surfaces, and other hazards that can cause accidents and injury
Use slip resistant mats on slippery surfaces. Make sure they have beveled edges and are replaced if they become dirty or wet
Create rules about walkway and aisle obstructions and keep walking paths clear of boxes and chairs
Verify that stairways and ramps are compliant with building codes. Make sure that they are well marked and that the handrails are sturdy
Establish a cleaning schedule for restrooms with a protocol that calls for the reporting of leaks. Use "wet floor" signage when necessary
5 Top Outside Risk Management Solutions
Establish a regular monitoring system to check for cracks in sidewalks and parking areas, utility covers that aren't flush to the surface, areas with poor drainage or sprinkler over spray, and proper signage of hazards
Verify that all outside areas have sufficient lighting
Verify that balcony railings are compliant with building codes and limit use of balconies, especially near children
Check all door thresholds for hazards and verify that all doors are in good working order
Trim landscape away from sidewalks and gathering areas
5 Top Administrative Risk Management Solutions
Have written contracts on file for all maintenance contractors with appropriate indemnity
Keep certificate of nonprofit insurance on file for all maintenance contractors that show your organization as additionally insured
Promote a culture or safety and wellness
Establish a written procedure for all employees and volunteers to follow if a visitor slips, trips, or fall
Train all employees and volunteers on how to recognize hazards and how to mitigate slip, trip, and fall risks
5 Most Important Things to Do (or Not) If There Is a Slip, Trip, or Fall
Care for the injured person. Determine how badly the person is injured and get them immediate medical attention or an ambulance if needed
Find out if there were any witnesses to the accident and gather their information. Try to get a written statement from the witnesses (and the injured party) as soon as possible so they don't forget the details
Take pictures of the location of the accident and anything that may have caused it
Do not cast blame on the injured party or anyone else present, and do not accept responsibility for the accident
Call your insurance broker or insurance company to notify them of any serious injury or if the accident has any chance of turning into a claim
The point is clear, there are many things that can happen and many ways to avoid claims. The basic message here is to be aware of risk and to employ common sense to avoid that risk.